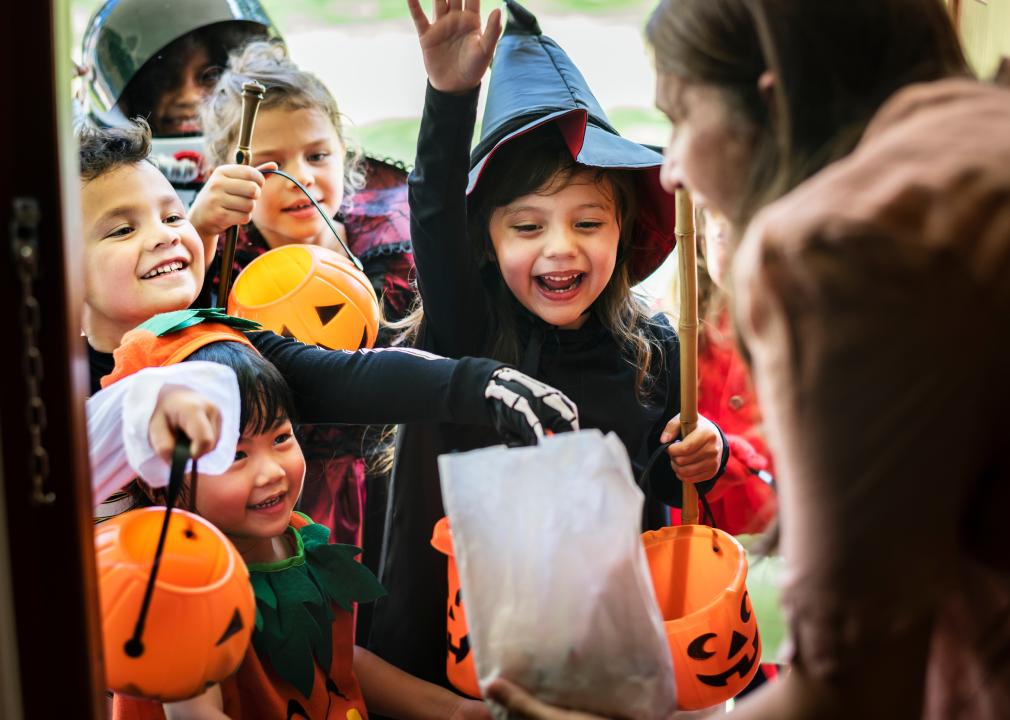 Rawpixel.com // Shutterstock
Kids dreaming of full-sized chocolate bars and pounds of bite-sized treats may have to settle for smaller gains this year as inflation continues to limit consumer spending—including in the candy aisle.
Sky-high prices of most major goods have forced nearly all Americans (92%) to cut back on their spending in some way, according to a CNBC and Morning Consult survey from June 2023. Stacker used data from the Bureau of Labor Statistics and industry reports to analyze how inflation has changed the game for Halloween.
Inflation drove the cost to celebrate Halloween up 7% this year—and most of that spike is from candy price escalations, according to a MoneyGeek study published in October 2023.
A 2023 National Confectioners Association report found that nearly 3 in 4 consumers say candy is still affordable. But nearly half made changes to save money last year—buying from different stores, purchasing other brands, buying lesser amounts, and the like.
And despite cooling inflation in recent months, inflation of candy has seen drastic jumps. The year-over-year inflation of candy has been above 9% for 13 consecutive months, hitting a high of 14.2% last October. As a result, candy sales have been slower going into the quarter than at the same time last year.
Candy prices have soared since late 2021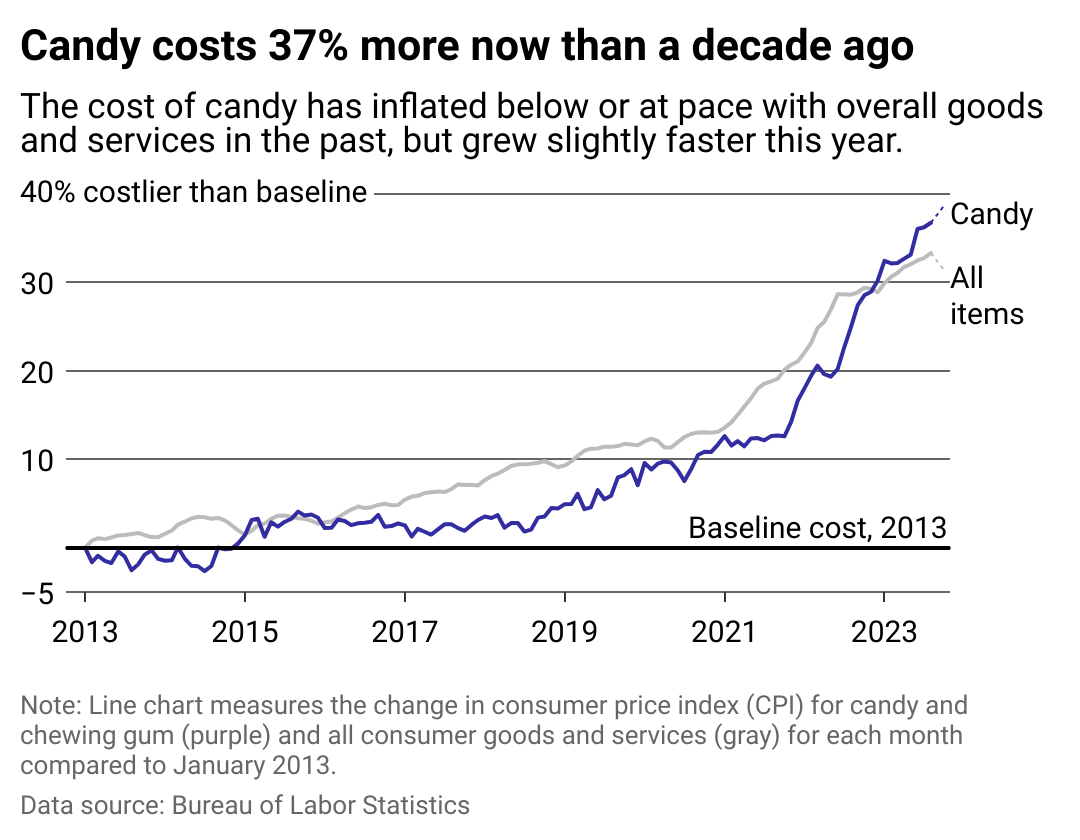 Stacker
Candy costs nearly 37% more now than it did in 2013—a more significant increase than has been measured across all goods. Most of the growth in the cost of candy over the past decade has occurred since October 2021. Prices have risen relatively rapidly compared to overall goods, which experienced more measured growth over the years to reach current levels.
If a bag of candy cost $10 a decade ago, it would cost $13.67 now. The change may appear small, but it represents millions of more dollars consumers need to spend to offer the same volume of candy to trick-or-treaters.
The Confectioners Association report shows that while national spending on chocolate increased over 9% from 2021 to 2022, the volume of chocolate purchased fell. Nonchocolate candy and gum each grew sales volumes by about 14% over the timeframe but saw little change in the volume of goods sold.
As those individual prices have continued to grow and "fun money" has dwindled, treat-lovers should curb their expectations this Halloween.
Costumes, decor costs remain relatively steady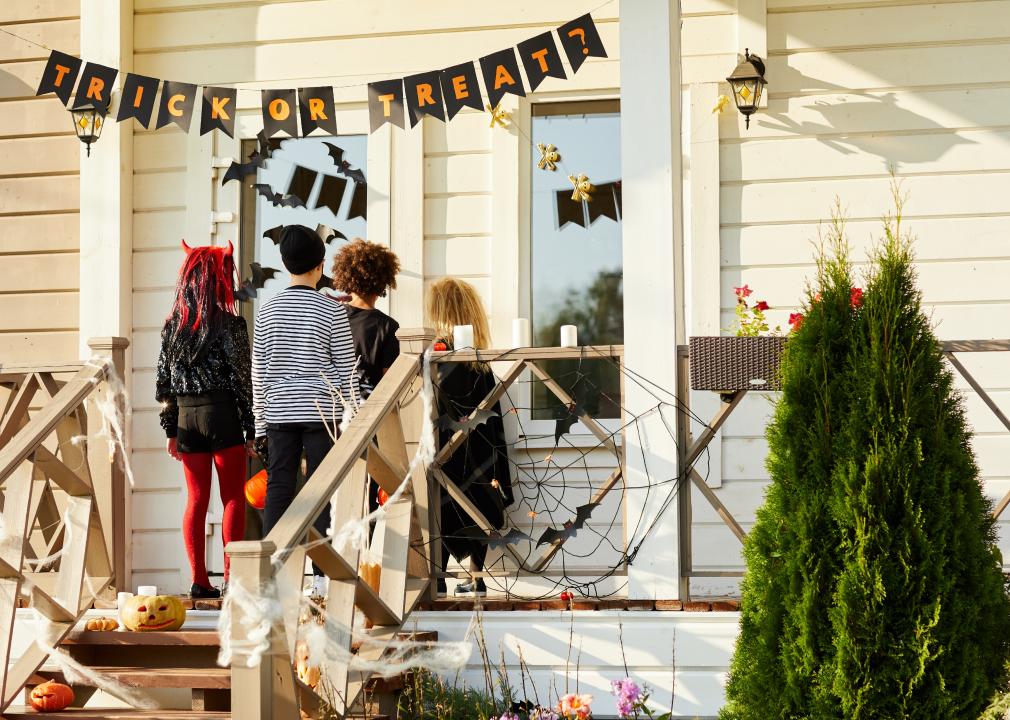 SeventyFour // Shutterstock
The good news is Halloween enthusiasts can still afford to dress the part.
Overall, apparel has not changed much in price in recent months or years, even as inflation has soared, BLS data shows. In August, apparel was only about 4% more expensive than in 2013, and in some years in between, apparel prices even fell below that baseline.
MoneyGeek's analysis found Halloween costumes and decor had much lower price increases than candy.
What's more, shoppers can purchase costumes and decor secondhand, off-season, and on clearance, or they can throw it together with things they already own—providing opportunities for cost savings this Halloween.
Story editing by Ashleigh Graf. Copy editing by Kristen Wegrzyn.