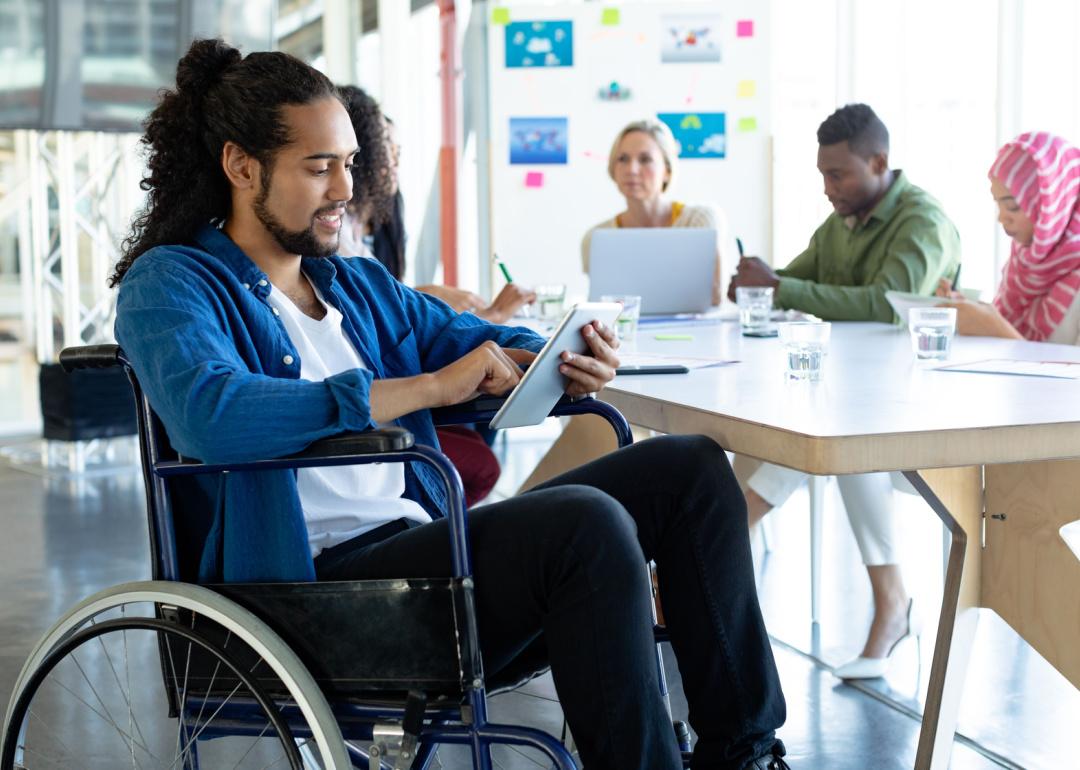 Shutterstock
People with disabilities are significantly less likely to be employed than the general population, with an unemployment rate roughly double that of workers without disabilities as of 2022, according to the Bureau of Labor Statistics. Slowly, those trends are beginning to shift.
In 2022, about 21% of people with disabilities were employed, a 2-percentage-point increase from 2021, BLS reports. The percentage of the population with disabilities that are employed is the highest since the BLS published this type of data in 2008. It marked a much higher employment share increase than there was among people without disabilities.
The tight labor market created new opportunities for workers with disabilities, the New York Times reports. "The doors are opening wider because there's just more demand for labor," Northwest Center President Gene Boes told the Times. His Seattle-based organization helps people with disabilities become more independent. The center also advocates for more accessible workplaces, which improve company performance as they create a better environment for workers with and without disabilities alike.
The growth of remote work also benefited workers with disabilities in an outsized way, removing a major barrier to entry at remote-capable jobs.
Foothold Technology analyzed Bureau of Labor Statistics data to determine which industries employ the highest share of the workforce of people with disabilities. The data was collected as part of the Current Population Survey, which samples 60,000 households in the United States monthly. Interviewers questioned households about blindness, deafness, difficulty concentrating, memory loss, and mobility challenges. Any "yes" answer counted that respondent as disabled in this dataset.
Industries employing the largest shares of workers with and without disabilities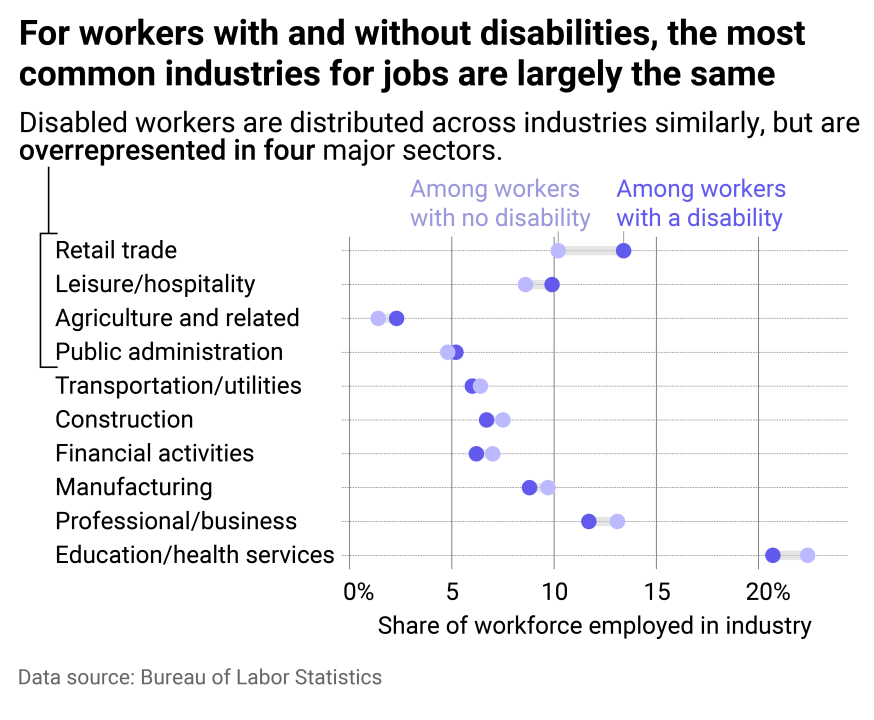 Foothold Technology
Workers with disabilities are more likely to be employed in four industries versus workers without disabilities: retail, leisure and hospitality, agriculture, and public administration.
Six large retail chains—Walmart, Target, CVS Health, Kroger Co., Meijer, and Walgreens— earned spots on the list of 2021 Disability Equality Index Best Places to Work. Companies qualify for the list based on factors such as employment practices, community engagement, and culture and leadership. Timothy Williams, vice president of diversity and inclusion at Meijer, credited passionate team members with helping the company grow and innovate.
About 30% of workers with disabilities are employed part time, double the rate of workers without disabilities. BLS also reports the proportion of workers who work part time for economic reasons, such as being unable to find a full-time job or having hours reduced, also was higher for workers with disabilities than workers without disabilities.
Many people with disabilities rely on public benefits systems, like Supplemental Security Income and Medicaid, which have low-income limits. While full-time employment may provide higher income, it may risk access to these crucial payments.
People with disabilities are less likely to have attained a bachelor's degree than people without disabilities. And the higher a worker's education level, the lower their chance of being unemployed.
To help bridge the gap, the Labor Department in August 2023 opened up $69 million in grants toward creating programs to help marginalized, young adults with disabilities join the workforce.
Additional writing and story editing by Ashleigh Graf. Copy editing by Kristen Wegrzyn.
This story originally appeared on Foothold Technology and was produced and distributed in partnership with Stacker Studio.