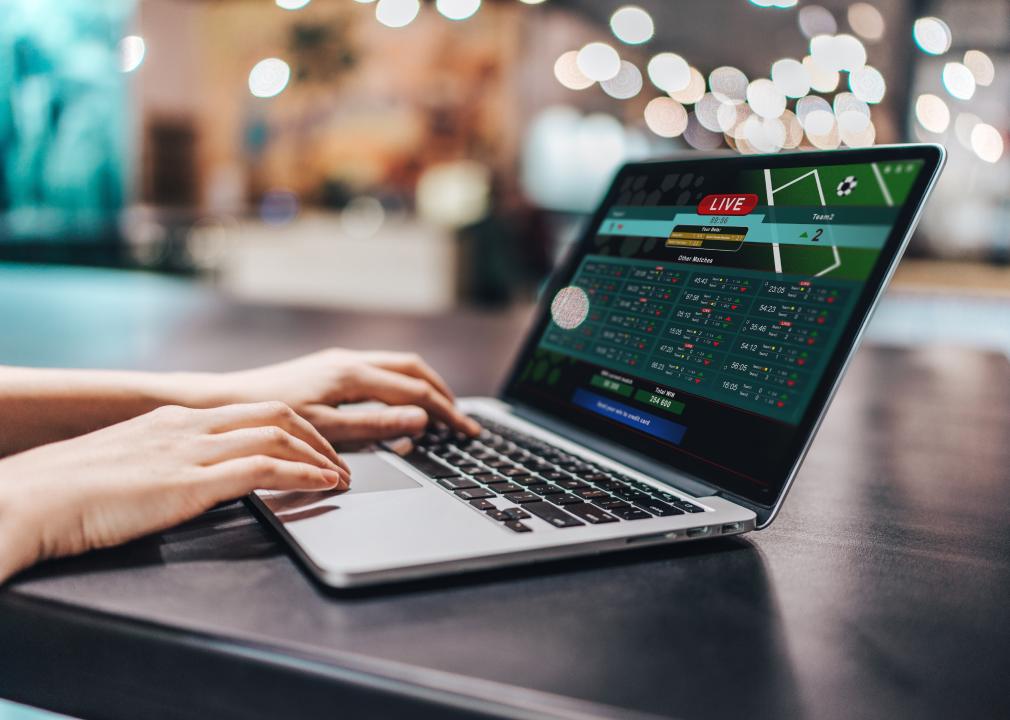 Wpadington // Shutterstock
It may appear that most states now have their own online versions of Vegas, where players can place bets in virtual casinos or on sports. But in reality, the online offshoot of brick-and-mortar gambling is still in its infancy. Despite the proliferation of online sports betting in many states, playing casino games online still has a long way to go. Nevertheless, there are many ways to gamble on the internet.
The Game Day Casino broke down the different types of online gambling and the legality of each, including casinos, poker, and sports betting across the U.S., citing data from The American Gaming Association (AGA), US Bets, and reporting by Bloomberg, the Associated Press, and iGB.
The virtual world of gambling, or "iGaming" in AGA's terminology, is multifaceted and comprises traditional casino games like poker, slots, and blackjack. It doesn't include online sports betting, where players wager on the outcome of matchups in traditional sports like football, soccer, baseball, or sometimes esports. Although, bettors can also gamble on the outcomes of political elections.
As the term suggests, "online [or] mobile sports betting" is distinct from "retail sports betting," which takes place in physical locations such as casinos and sports venues.
While many legal gambling avenues exist, the illegal online gambling market remains problematic in the U.S. AGA estimates that bettors wagered $68.3 billion in sports bets (largely placed online) with illegal bookies and offshore sites. Americans bet another $337.9 billion on illegal iGaming websites.
However, a 2018 Supreme Court decision opened the floodgates of legal online sports betting that had been stymied for years. Now, nearly 1 in 2 bettors who usually play with illegal operators plan to move to regulated operators.
Close to half of the states have embraced the 2018 online sports betting laws to bolster their coffers. In contrast, since the U.S. began permitting online gambling within state borders in 2014, only eight states have legalized casino games or poker as of September 2023. Adoption has been slow for legalized online casino games, but it continues to grow.
In 2022, AGA reports online casino revenue reached $5.02 billion, an increase of 35.3% from the previous year. So why aren't more states all-in, putting their chips down to increase their cash flow?
The kudzu-like growth of online sports betting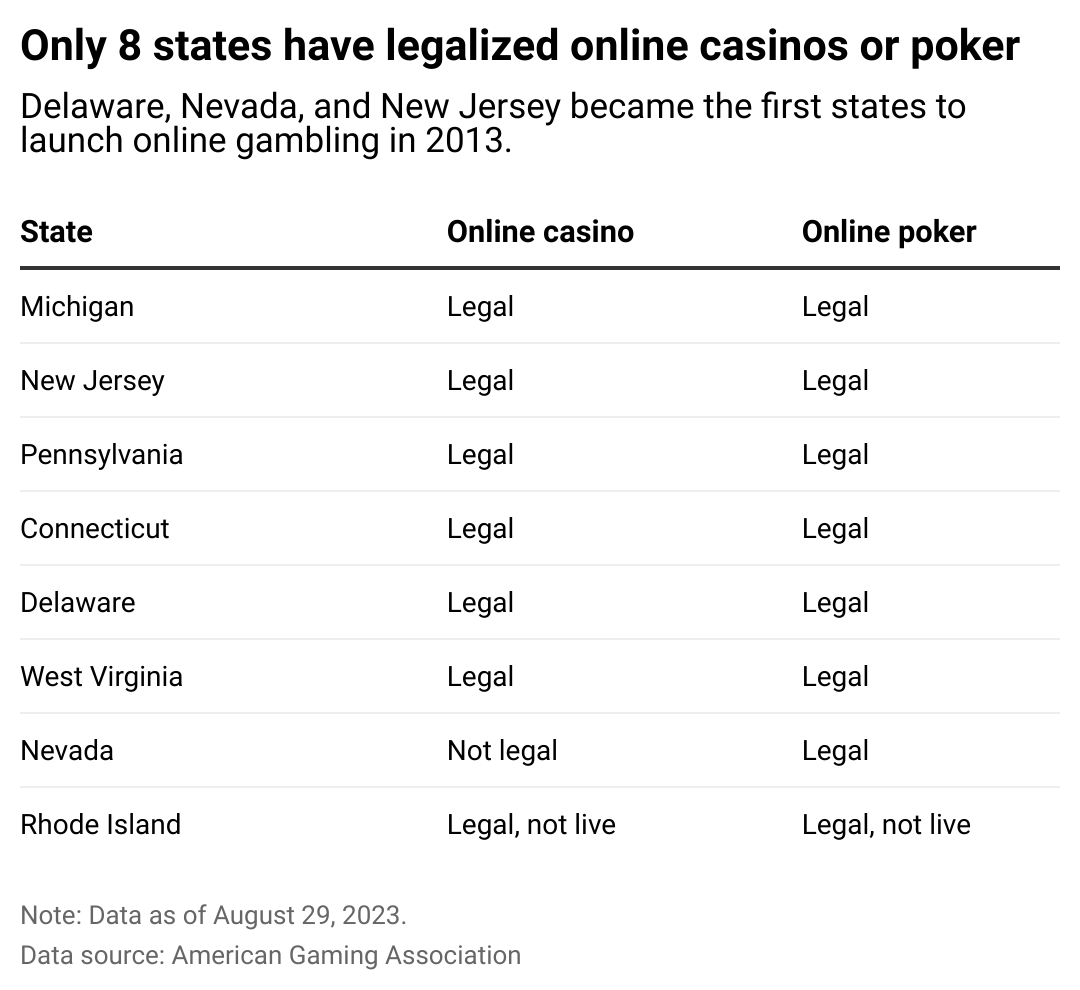 The Game Day Casino
Since courts overturned the sports betting ban in 2018, 24 jurisdictions have legalized online sports betting from any location. The industry has become so popular and visible that it's hard to escape even for those who don't gamble. Nielsen reports that the online gambling advertising spend in local television skyrocketed from $10.7 million market in 2019 to $153.62 million in the first quarter of 2021, the few years following sports betting's legalization.
The jurisdictions that rode the initial wave of online sports betting experienced a major boom in the COVID-19 pandemic. At the time, dollars waged on mobile sports betting overtook land-based bets, according to a Bloomberg analysis of Sportshandle.com data.
New York was undoubtedly at the top of that heap. In 2022, the state brought $1.37 billion, or nearly $1 of every $5 of revenue from online sports betting in the U.S., according to the AGA. In just the first six months, New York made $267 million in tax revenue.
Sportsbooks made online sports betting the norm, benefitting from increasing partnerships with professional and college sports teams, investments from media outlets like Fox and ESPN, and other major publications like The Washington Post and The Boston Globe increased their focus on sports betting by publishing analyses and data.
The industry blossomed so rapidly that a New York Times investigation looked at whether consumers had adequate protections from the deluge of online sports betting advertising and pointed out how the industry's attempts to self-regulate have fallen short. Some states like Ohio, however, have had stronger stances. Gov. Mike DeWine stepped in to double Ohio's sports betting tax to damper the saturation of ads.
State taxes on online sports bets vary greatly, which affects every state's revenues.
Iowa and Nevada tax rates are only 6.75% for land-based and online operations, whereas New York imposes tax rates as high as 51%. New York also taxes businesses based on gross revenue rather than profits—even free bets offered to players are counted in an operator's total revenue, shooting tax payments up to 77%, according to the Tax Foundation.
Nevertheless, in 2022, the state earned more than $693 million in taxes. How much a state makes greatly depends on how high a tax it levies.
Online casinos and poker could be a windfall waiting in the wings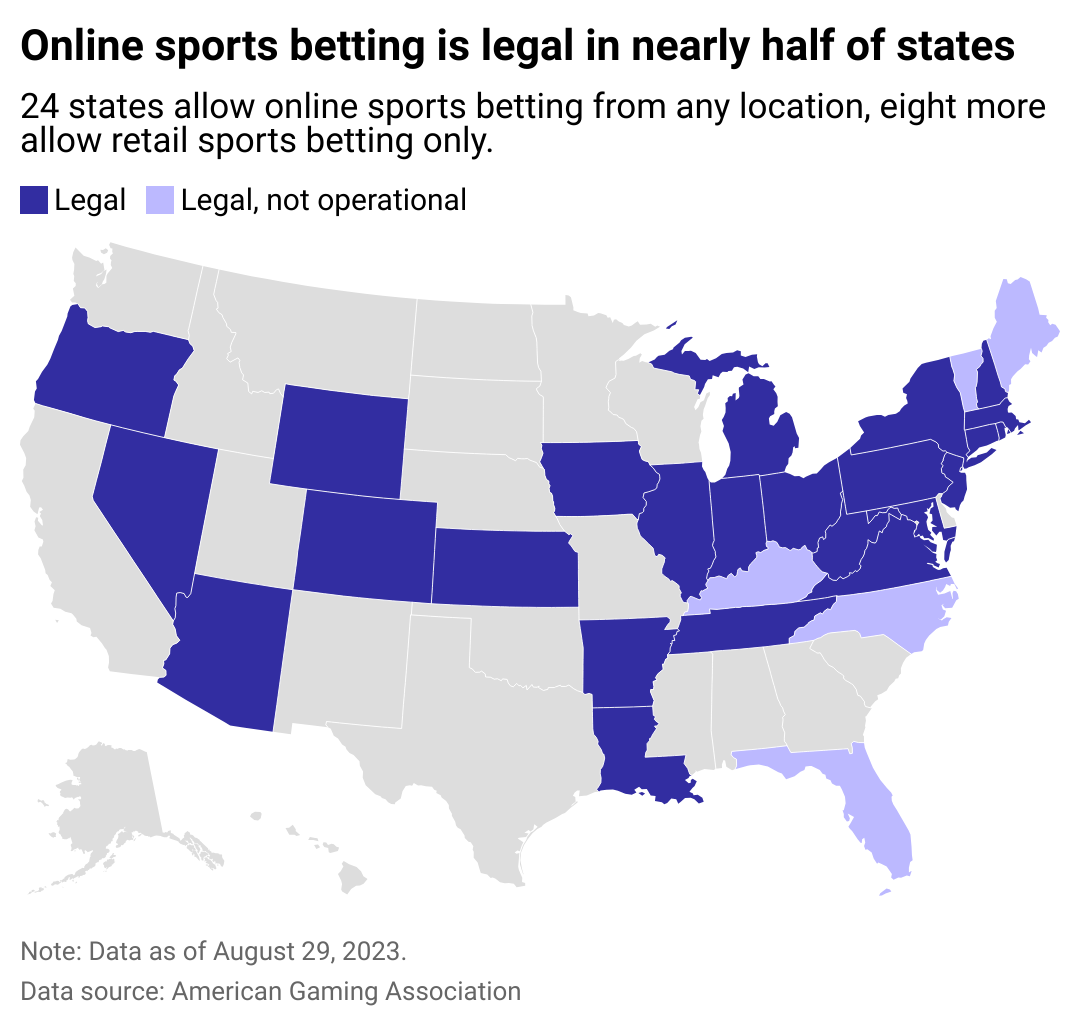 The Game Day Casino
In West Virginia, one of eight states that allow both online sports betting and internet gambling (including poker), Shawn Fluharty, a member of the West Virginia House of Delegates, told the Associated Press that online gambling rakes in three times more than sports betting.
The potential windfall of broader online casino and poker adoption is huge, said Howard Glaser, the global head of government affairs at gaming company Light & Wonder. In 2022, the net income for retail and mobile sports betting in over 30 states was about $6.4 billion, but with just six states, iGaming has generated over $5 billion, Glaser reported.
Still, it's not a safe bet to assume that state legislation permitting online casinos and online poker will follow in the wake of the rapid online sports betting laws. Online casinos and poker adoption have been more cautious and closer to the average pace of lawmaking.
In 2023, online casinos have the green light in only six states—New Jersey, Connecticut, Delaware, Michigan, Pennsylvania, and West Virginia. Rhode Island has quietly passed laws and has plans to roll out its online casinos by March 2024. Nevada, the first state to legalize iGaming in 2001, limits online gambling to just poker games after a push by brick-and-mortar casinos to protect their market of local players.
Some brick-and-mortar casinos, bars, and video gaming terminal companies that offer slot games have voiced concerns that legalizing online and mobile gaming could cause fewer people to visit physical locations, impacting revenue and jobs. However, data from Atlantic City, New Jersey, reported by the Associated Press, shows that since online gambling became legal, both virtual and physical operators saw an increase in revenue.
Change seems to be in the cards.
An analysis of 2022 data by iGB shows the industry is a prime opportunity for states to cash in, like Illinois, which has a lot of state debt compared with the value of the goods and services it produces.
The conversation doesn't need to pit physical casinos against online ones, according to Michael Pollock of the Spectrum Gaming Group. He told iGB: "What we urged legislators to do is look at the bigger picture because if iGaming is coordinated with the land-based casino industry, it becomes a demographic opportunity to reach new customers and get them to visit your property."
Story editing by Carren Jao. Copy editing by Kristen Wegrzyn.
This story originally appeared on The Game Day Casino and was produced and distributed in partnership with Stacker Studio.